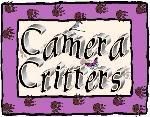 I found this fun meme, and since I have plenty of critters around this house I thought I would join in. It gives me an excuse to post pictures of my babies.
I took this picture of Midnight this morning. She was enjoying the great taste of my plants, naughty kitty. The way the light hit made the plant reflect off of her eye, making it super green.
And here is the proof of her misdeeds (see the grass hanging out of her mouth). Doesn't she look silly with her tongue hanging out like that.